You name it, you got it !
July 2nd, 2008 by admin
->
Let me start a new contest to celebrate this new year 2008 ! I am planning to host more contests like this, in this year.
You name it, You got it !
It is very easy. You are going to suggest a name for my next premium theme, that I am going to sell at my WordPress Theme Shop.
If the name you suggested is chosen, you will get that theme for yourself free !
See it
Please click on the screenshot to see a live preview of the theme.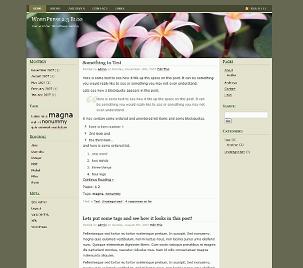 Rules:
1. All entries for this contest goes in as comments to this entry.
2. One Person can enter as many names as they want.
3. Your entries are visible to other people.
4. The last date for entering into the contest is January 26th 2008.
5. The theme is a premium theme, to be sold at my WordPress Theme Shop.
It is made free for you and will be available at Theme Corp on Feb 1st 2008.
Thats it, Enjoy !
Written by -
Visit Website
Posted in Stuff from Wpthemes.info